I've been reading a feature called
Friday's Letters
by
Ashley
from
Adventures of Newlyweds
blog for a few months now and have decided to link up and do one for today!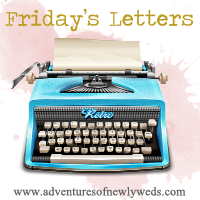 Dear Car
, please make that same crazy noise that you make for me when Dave drives you today so he doesn't think I'm being overly paranoid.
Dear Mulch
, you are heavy and smelly but you certainly made our yard look neat and tidy!
Dear Trees
, please stop dropping, spreading and spraying your nasty pollen. I know you're just doing your natural thing but um I can't stop sneezing and my poor baby is all stuffed up.
Dear one inch long ants
, you are very creepy. Please go into my strategically placed ant traps and get a good amount of "stuff" on you and take it back to your creepy ant lair.
Dear Ohio
, winters are pretty rough but Spring, Summer and Fall are absolutely gorgeous here. Thank you for being so green, lush and beautiful!